It took a while to get there, but it's done! And I LOVE it!
The project was impacted by everything from
tornadoes
, procrastination, undecisiveness on my part, scheduling with the Bassman on stuff we were going to work on together, and too many other fun things to do other than WORK in the bathroom! Do your DIY projects go like that or is it just me?
This was my
inspiration
at House Beautiful.
I considered the grey color trend that is going on now, but just couldn't commit to that, not in a bathroom anyway. I learned a lot about choosing whites at
Color Me Happy
. There were some things that we weren't planning to replace like the toilet and the tub so the whole white decision was stressful. What if it looks too yellow? too green? too pink? or don't match? Ugh! I'm not sure I got it right, but I'm happy with the results, and I think that's the bottom line in a DIY project.
We removed as much of the construction grade stuff as we could. We ripped down the knee wall to make a little more space. Why do they call it a knee wall?
The wallpaper was awful. It was applied directly to the drywall with no paint underneath. What a nightmare! This stuff wasn't coming off, it was one of those projects that I wish I had never started! But I was determined it had to GO!
Potty room before:
The Bassman and I did the crown molding ourselves. Yes, scary I know. And we're still happily married, ha ha! We used the crown molding from Lowe's that's the same on both sides making the cuts easier.
Potty room after:
In the old shower, the Bassman had to duck down to get into and out of the shower. Not anymore. And look at those two access panels, they're not even the same color! Obviously, the builder cut a few corners.
Shower before:
I love the shower now! We hired a tile crew to do the floors and the shower. They did an excellent job and were wonderful to work with. I love the frameless glass, the little corner seat and the niche for shampoo and soap.
Shower after:
The vanity area had one of those cheap gold light strips with the 6 globe lights, standard mirror and those 1980's Longaberger baskets that I tossed my stuff into!
Vanity before:
We used our Costco membership to hire
Old Castle Surfaces
to install the new countertop. The Bassman swapped that 6-globe-light out for updated lighting over the sinks.
Vanity after:
The existing cabinets got a facelift with new doors, new hardware and a coat of paint.
I like it simple and uncluttered. I may hang some faux roman shades at some point but for now I'm happy!
Linking with: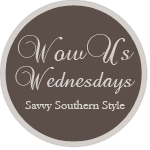 Metamorphosis Monday
Boogieboard Cottage Masterpiece Monday
Meet me Mondays at You're talking too much
Get Outta My Head Please Show it off party